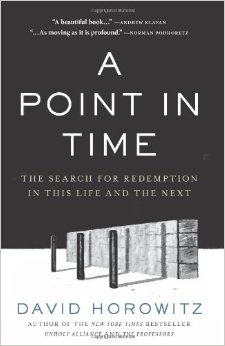 New York Times bestselling author David Horowitz is famous for his conversion from 1960s radicalism. In A Point in Time, his lyrical yet startling new book, he offers meditations on an even deeper conversion, one which touches on the very essence of every human life. Part memoir and part philosophical reflection, A Point in Time focuses on man's inevitable search for meaning—and how for those without religious belief, that search often leads to a faith in historical progress, one that is bound to disappoint. Horowitz agrees with Marcus Aurelius, whose stoic philosophy provides a focal point for the book, "He who has seen present things has seen all, both everything that has taken place from all eternity and everything that will be for time without end.…"
Blurbs
"David Horowitz is so powerful a polemicist that it is often forgotten how beautifully he writes. For the same reason, the deeply considered philosophical perspective and the wide-ranging erudition underlying his political passions are just as often overlooked. But it is precisely these qualities that come to the fore and shine through so brilliantly in the linked meditations that make up A Point in Time. With Marcus Aurelius, Ecclesiastes, and Dostoevsky as its guides, this little book boldly ventures into an exploration of first things and last that is as moving as it is profound."
—Norman Podhoretz, author of Why Are Jews Liberals?
"A beautiful book, both sad and uplifting. Moving in turns from the intimate to the universal, Horowitz not only explores but also embodies the dignity of the tragic worldview. A Point in Time is a poignant and elegiac reflection on life from a man who bears the burden of unknowing with courage and grace."
—Andrew Klavan, author of True Crime and Empire of Lies
"Emulating Marcus Aurelius, David Horowitz has produced a meditation on facing death that is poignant and wise. Whether invoking the Stoics or reflecting on his own father, he helps us think through that most basic of all questions: what is it that can give meaning to our existence?"
—Walter Isaacson, author of Einstein
"I have admired David Horowitz for decades. He has taught me many important lessons. But never have I been so moved by his writing as I am by this brief and profound book."
—Dennis Prager, author of Why the Jews?
"Nobody personifies tough-minded political infighting more than David Horowitz. Yet A Point in Time proves again what Horowitz has shown us before—that a brawling political spirit can harbor profundity."
—Stanley Kurtz
"This is a profound book, well worth reading to reflect on and enjoy the lessons in life it gives."
—Washington Times
"I felt a great peace and calm reading Horowitz's beautiful prose. Far more than other authors, he has been able to touch my feelings on a deep level, and cause me to reflect on whether or not I have been able to make a difference while I am among the living."
—Ronald Radosh


Articles
Reviews